Dutch artist Anita Ammerlaan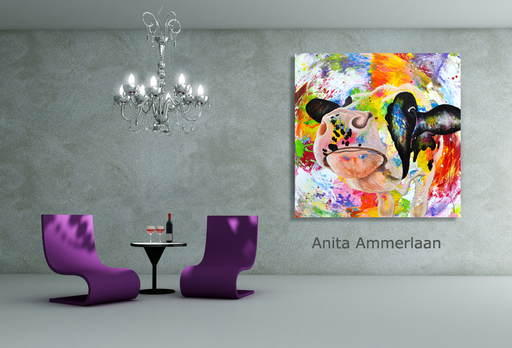 Anita Ammerlaan graduated from the Academy of Fine Arts, Willem de Kooning Academy, in Rotterdam in 1999.
For years she painted portraits of cows in a figurative-realistic way.
Anita was inspired by the cows of the dairy farm of her father and uncle.
Anita decided she had to develop her way of painting.
The best way to do this was to paint other subjects and themes in other ways.
But these themes and subjects still fall within the Animal Kingdom and nature.
Anita approaches her themes in a personal and sometimes an emotional way.
And so her colourful paintings seem to tell a poetic story.
Anita Ammerlaan has a new studio of 1150m2 at Markt 39 in Roosendaal, in the south of Holland.
This space is also used as an exhibition space for other artists.
You can visit Anita Ammerlaan and her new studio by appointment or during official openings.
The nearest parking is 'Emile van Loon Park'.
In certain conditions she prefers acrylics.
Anita paints with Acrylics in her latest series; the lightscapes, paintings which turned out to be a mixture of abstract, impressionistic and expressionistic art.
She paints these lightscape series intuitively, inspired by nature, without any plan, letting herself and the audience by surprise.
They are typical paintings which you should admire close by, real-life.
Only then you will notice the many colour shifts, the embossing and the many ways in which the light is playing with the paintings.
Anita also combines this new way of painting with her figurative- realistic artworks.